Clear Cut Group opens Dolby Atmos Suite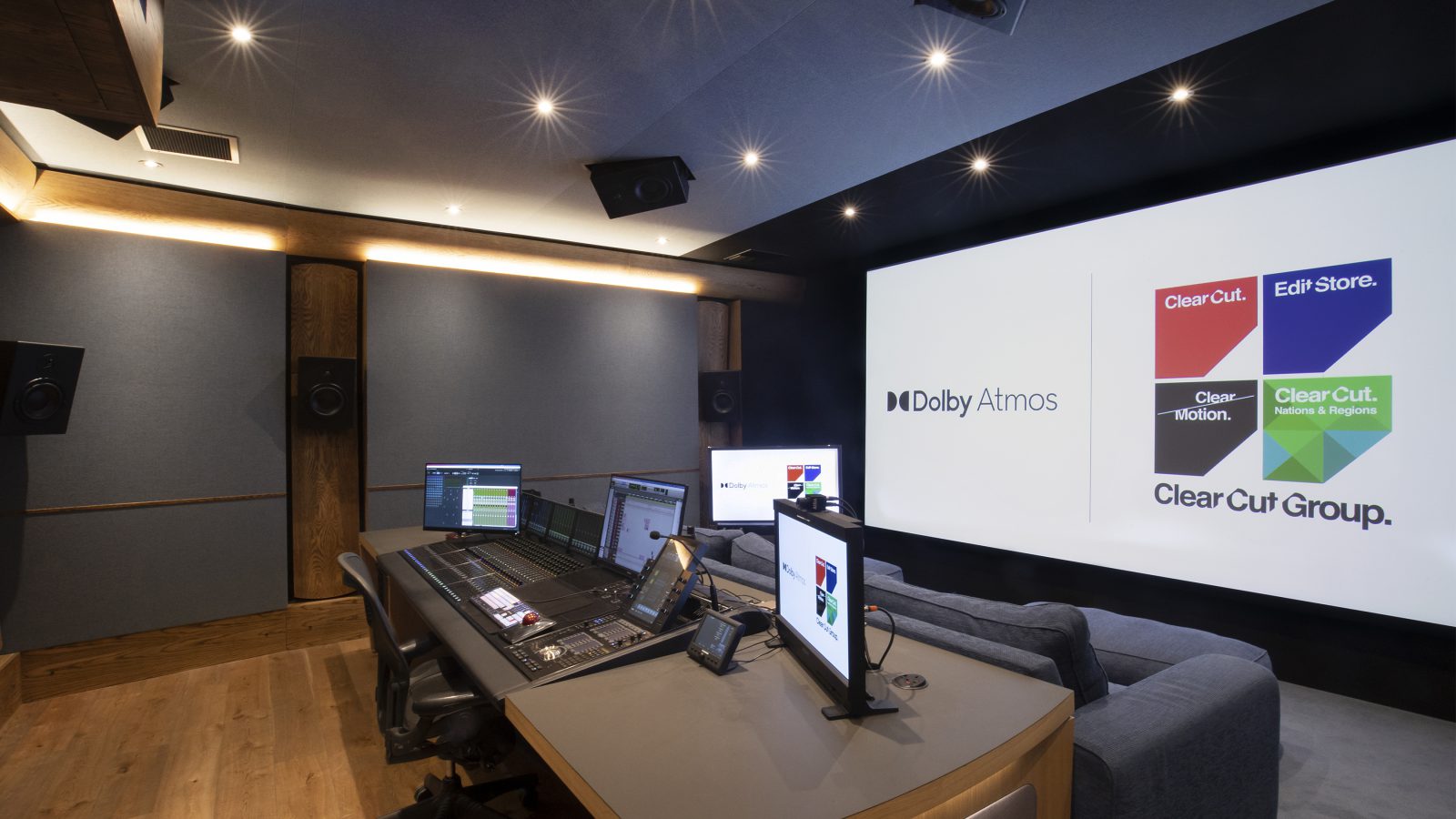 Clear Cut Group are delighted to announce the opening of a state-of-the-art Dolby Atmos audio mixing theatre at their Bayley Street facility in central London. Purpose built to meet the varied mixing and deliverable requirements that are demanded of today's productions, the 9.1.4 speaker configuration offers the maximum flexibility from full spatial audio mixing for HETV workflows through to stereo.
The room was exquisitely designed and built by the accomplished Munro Acoustics and boasts perfect acoustics for HETV mixing. The Dante AoIP configured room has been designed to a premium technical specification with an Avid S6 M40 mixing desk, MTRX audio interface inc. 128 channel Dante and SPQ calibration cards, Focusrite Rednet A16R and X2P's, custom built Dynaudio speakers, Chord amplifiers, Dolby Atmos RMU, and high-performance Mac Pro at the heart of the room.
Clients can review their final pictures on either the 4.5m screen via either the Canon XEED laser projector, a 55" UHD TV or a 24" Sony PVM A250 OLED monitor. Aida HD cameras in the voice over booths and control room are connected via a Blackmagic SDI router providing ultimate flexibility linking all three Bayley Street Audio theatres and Commentary booths.
This installation is the latest in a planned programme of upgrades across all their central London sites to expand their capacity for delivering content and meeting the challenging specifications of global streamers. Rowan Bray, MD said "In order to expand our capacity to deliver Atmos in response to client demand and interest from global streamers. the installation of this suite is ideal for high end TV and theatrical productions. The suite sounds great and is a beautiful space complimenting the rich heritage of the building."
Ben Newth, Head of Audio said "The audio team is delighted with the new room – it looks and sounds incredible. We're really excited to be mixing and delivering in Dolby Atmos."
Jess Nottage, Technical Director says "Adding such a high spec Dolby Atmos Theatre that is sonically and visually stunning to Clear Cut Group's service offering is very exciting and gives our very talented Dubbing Mixers the ultimate tool to deliver the most creative and immersive sound mixes for our clients."