Clear Cut open new post production facility in Birmingham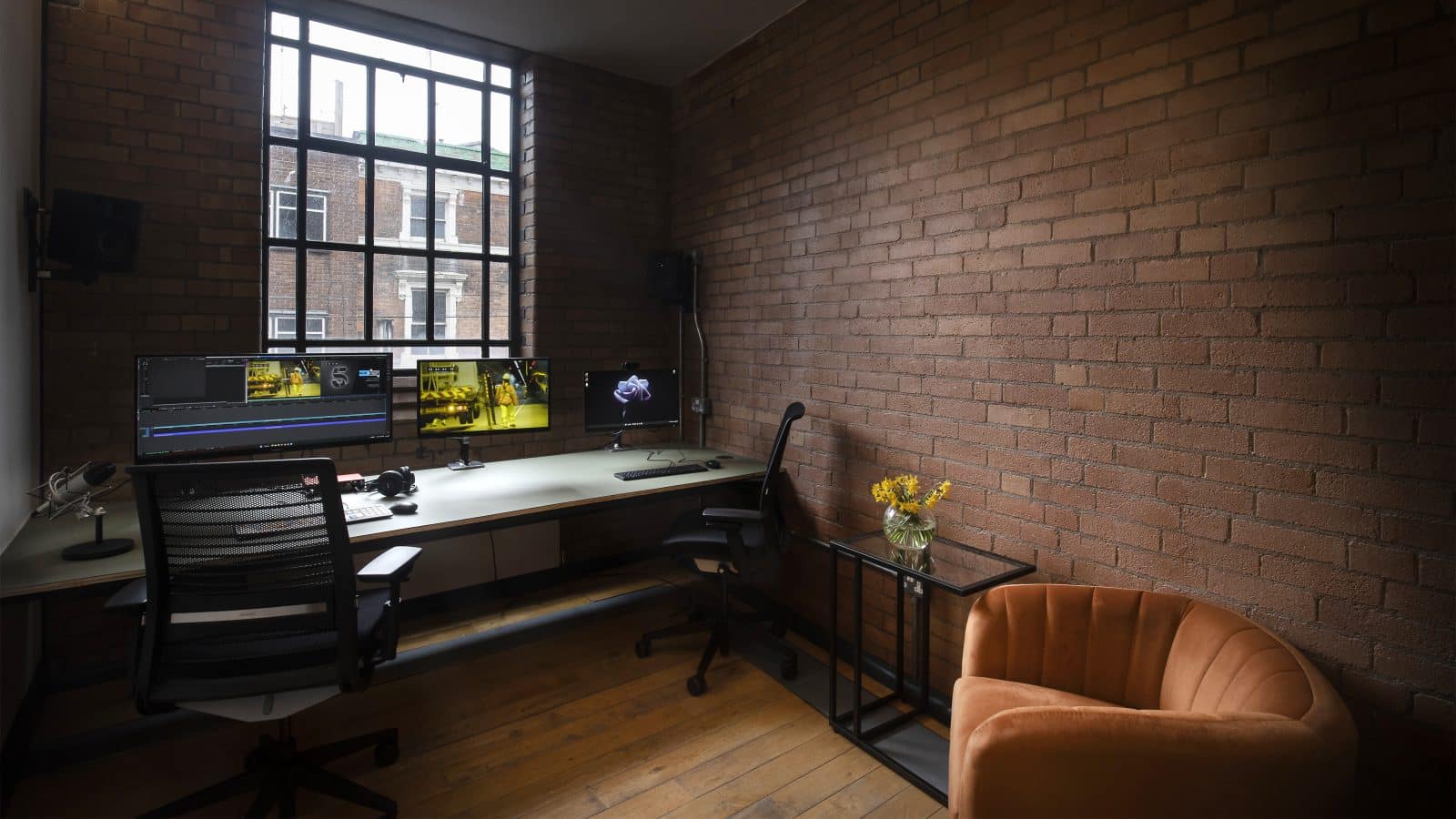 Clear Cut are pleased to announce the opening of a brand-new facility in the West Midlands. Located in Digbeth, Birmingham, equidistant to The Custard Factory, The Banana Warehouse, The Bond and just a stone's throw away from the BBC's new HQ, The Tea Factory. This new venture will offer fully flexible post production in the heart of the UK with 4K capabilities both remote and onsite.
Based in the beautiful Grade II listed Walker Building, the former factory features red brick interiors that offer a light and airy feel, complete with adaptable suites with initial capacity for up to 40 remote offline suites and onsite suites as needed (offering Media Composer, Premiere Pro and Da Vinci Resolve), plus online and grade suites giving clients the ability to handle complex post-production tasks and final mastering. To complement these post production facilities, there is also 24 hr operational support, a production office for up to twelve, outdoor space with secure car and cycle parking. Clients can expect comfort, style and highly creative, end to end post production services.
The facility is equipped with energy-efficient HP Z2 mini workstations for offline editing, alongside Blackmagic IO and video router hardware, delivering high-density compute power and operational versatility. This state-of-the-art facility is the perfect solution for production teams looking for a modern and flexible post-production space in the heart of the UK.
Clear Cut has a proven track record in Birmingham, having previously launched a pop-up facility in 2016, which has now grown into a fully-fledged post-production operation. In recent years Clear Cut has worked for clients as diverse as Full Fat, South Shore, Acclaimed Content, BBC Three and Curve (to name a few) and we are already seeing growing demand for 2023.
The facility is led by local champion Caroline Hewson who has significant experience in post-production and is passionate about building the services offered in Birmingham. Her extensive experience in managing complex post production makes her the ideal leader for this facility.
Caroline said "It's safe to say Birmingham is back on the map with the Creative and Screen industries across the region set to thrive. To be a part of the regeneration in Digbeth is hugely exciting for us. We can't wait to collaborate with our neighbours and clients!"
In addition to Caroline and the in-house team, Clear Cut is also working with the BBC Apprenticeship Hub to help build the local talent pool with the right passion for post production. By utilising the Post Production Technical Operator apprenticeship for their training, they will work alongside Clear Cut's existing technical team to support their diverse projects.
Rowan Bray, MD at Clear Cut Group said "This is such an exciting development for Clear Cut Group. We have already built a considerable reputation, as the post-production partner of choice in Birmingham, and now we have an expanded state-of-the-art facility to offer in the ideal location. Our commitment to the wider Nations and Regions initiatives, and to developing local production and regional talent is a long-term plan. This is an exciting step on that journey."
Jess Nottage, Technical Director says "Clear Cut's newly opened facility in Birmingham is designed to deliver an elegant solution for dispersed production teams. Clear Cut's solution is agile, enabling teams to seamlessly switch from working remotely to working at the facility, or even a combination of both."
Ed Shedd, Chair of Create Central, said "Clear Cut's decision to open its Nations & Regions office in Birmingham is critically important for the creative ecosystem and infrastructure of the city and for the wider West Midlands. Quite rightly there has been a major focus on attracting productions like MasterChef, Late Night Lycett, DI Ray and now Silent Witness to come and film in the region, but it's equally important that we are able to offer world class post-production facilities. Create Central is absolutely delighted to welcome Clear Cut to the heart of the Digbeth Creative Quarter."
Projects already post produced by Clear Cut Nations & Regions include; The Bad Skin Clinic (Full Fat TV for Discovery+); Hairy Bikers Go North (South Shore Productions for BBC Two); Queen of Trucks (Acclaimed Content for BBC Three & iPlayer); Living Wild: How to Change Your Life (Full Fat TV for Channel 4)